How do you know your insurance requirements warrant an audit?
A good indicator is the following combination:
High rate of non-compliant records on file that are missing a policy or have insufficient coverage
The low number of expired and missing COIs (that way, you know your collection is not the problem)
The high number of non-compliant records that end up waived.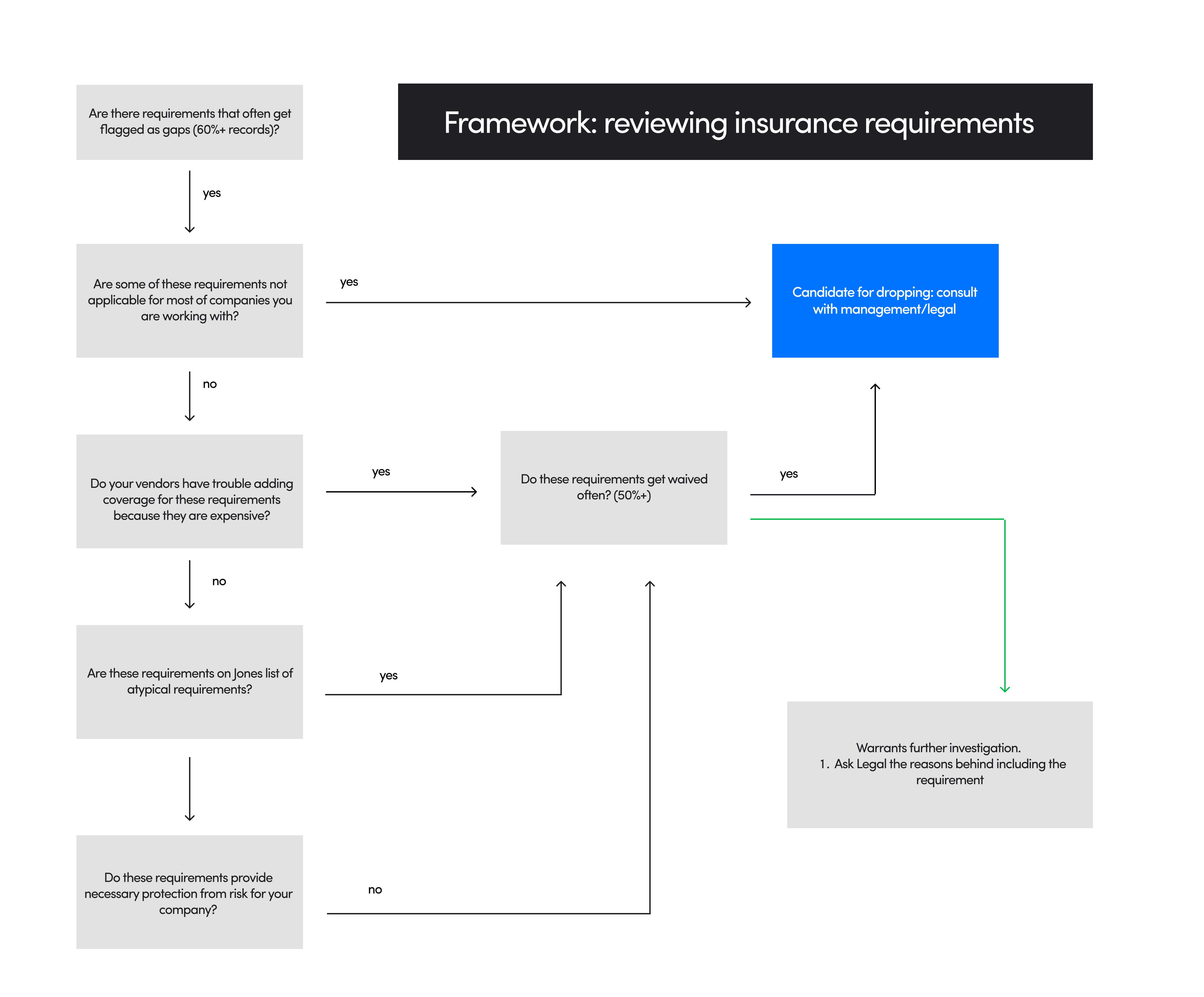 Step 1: Low-hanging fruit: atypical requirements
Do your lease agreements contain any atypical requirements that are rarely included in tenants' and vendors' COIs? If so, they might be one of the biggest factors dragging down your compliance rate: they are often flagged for coverage gaps and aren't likely to be resolved.
Try to spot the following requirements:
❌ Not applicable for most types of business
Example: Cyber Liability coverage (not applicable to any company that does not handle sensitive data in the cloud or on electronic devices).
❌ Too expensive for the tenant/vendor to add to the coverage
Example: Crime Liability, which is usually required with a limit of $1M, adding around $5K to the insured's premium.
❌ Doesn't really exist
Example: requiring a Waiver of Subrogation Endorsement for Property Insurance. Sometimes we see it in some of our clients' requirements. The problem is, that brokers won't add it because it's not a thing.
❌ Atypical/rare requirements
Here's the list of atypical requirements the Jones team has come up against over the years:
Amendment of Pollution Exclusion
General Aggregate Per Location Endorsement
Cross Liability Endorsement
Title, Truth in Lending, Truth in Leasing Errors & Omissions
Valuable Papers
Alternate Employer Endorsement
Railroad Protective Liability
Abuse and Molestation Insurance
War Risk Insurance
Loss Payee Endorsement
Now that you've identified potentially problematic requirements, you can review them on a case-by-case basis. Which requirements to drop depend on several factors — there definitely isn't a one-size-fits-all approach on what requirements to remove.
Here is an example of what we've seen one of our real estate clients remove:
One of our real estate clients chose to remove Fidelity/Crime insurance requirement, which was either missing or lacking adequate limits in almost 85% of vendor COIs. The company decided this requirement wasn't applicable to most of their vendors. As a result, the overall compliance rate for this company has increased dramatically.
Step 2: Look for requirements that get waived often
Certain types of coverage are commonly added to the insurance requirement sets – but not in COIs. As a result, they often become gaps and need to be waived by property managers.
The most commonly waived requirements:
30 days' Notice of Cancellation
Additional Insured Endorsement for Ongoing and Completed Operations
All kinds of coverage that are required as an endorsement but were evidenced in the Description of Operations box of a COI.
If you don't have access to compliance charts, we recommend building an Excel report and comparing each requirement across the following two criteria: gap percentage and waiver percentage.
What you are trying to do is answer the following two questions:
❓ Does this insurance requirement get flagged as a gap a lot (70%+ records across your portfolio)?
❓ Does this insurance requirement get waived a lot (75%+ records across your portfolio)?
If the answer to both these questions is 'yes', this requirement is a candidate for removal. Example of what we've seen one of our real estate clients remove:
One of Jones' real estate customers has decided to drop the Additional Insured endorsement for Automobile, which was flagged as missing coverage in almost 80% of vendor records. The property management team came to the conclusion that the AI requirement was almost never met and didn't actually provide protection from risk.
Ready to improve your property's performance?