Note: The Jones Network is currently available for NYC-based properties and projects. The network will launch nationwide at the beginning of 2023.
Map
Zoom in to see how many vendor profiles are in the vicinity of your building or construction site.
Bla Bla.
Note: interested in exploring how Jones can help you automate your compliance management end-to-end and de-risk your building? Talk to our team of experts today!
Why look up vendor insurance coverage?
The main benefit of using The Jones Network is instant access to insurance data. Knowing how likely a vendor is to be compliant allows you to make informed decisions:
Inform tenants that approving their ad-hoc vendors might take several days because the quality of their insurance coverage presents a risk to the building.
Vet vendors and hire the ones most likely to be compliant for urgent projects.
Plan your week in advance, knowing that vendors can quickly be approved and start working as early as the following day.
How does The Jones Profile work?
Currently, The Jones Network has hundreds of thousands of vendor COIs on file, and this number is growing daily. All these vendors have a Jones Profile—an insurance coverage summary alongside key insurance contact information and predictive analytics on the probability of achieving compliance.
In addition to the basic info (such as the company's name and address), you will be able to see:
— Insurance coverage details
— Predicted compliance status
— Verified insurance contacts
Insurance Coverage Details
This section details coverage details and limits for all key policies.
Predicted Compliance Status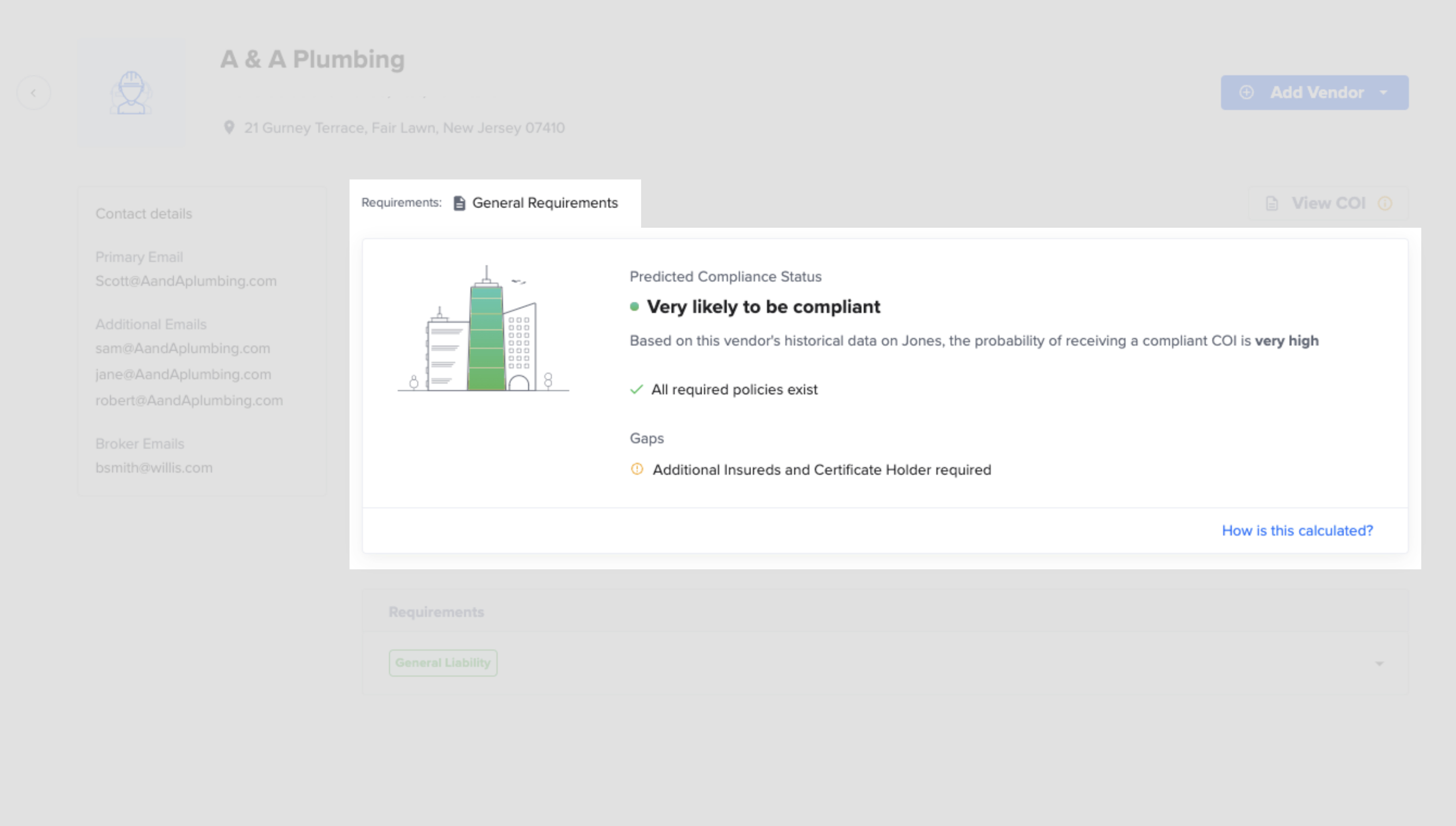 Verified Insurance Contacts
Ready to automate COI collection at your company?
Let's Chat!